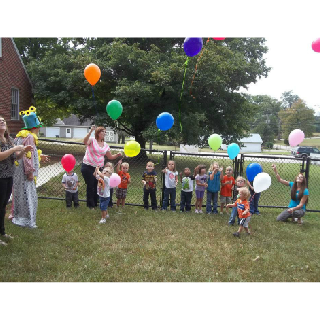 Boydton Baptist Church
Mini Blessings Preschool
and After-School Program
P. O. Box 15, 239 Madison Street, Boydton, VA  23917
Mini-Blessings Preschool
Thank you for your interest in our preschool and after-school program.  Through these programs, we strive to serve the needs of families by providing a loving, caring, Christ-centered environment for learning.  Our highly qualified staff will treat each student as a precious creation of God, with unique talents, interests, and needs.
Mini Blessings is a year-round program.  Our school year begins in August and ends in May, following the Mecklenburg County Public School Calendar.  We also offer a summer program for preschool and school-age children during the summer months.
Applications should be completed and returned, along with the $50.00 nonrefundable application fee, to the mailing address below.  All applications will be processed on a first-come, first-serve basis and enrollment is limited.
Preschool:
Our preschool program will provide children with a loving environment to introduce the Word of God and teach Christian values, while also building an excellent academic foundation based on the Virginia Standards of Learning for preschool students.
Our staff will work very hard to give your child a positive Christian experience, while preparing them for academic success.
Full-time tuition is $375/month and part-time tuition is $275/month.  Tuition is due the first of each month.  Also due by August 15th will be the yearly curriculum fee of $200.00.
Our part-time program is intended to be flexible to meet the needs of the families we serve.  If your child will be enrolled part-time at Mini-Blessings, he/she may attend Monday-Friday until 12:00 each day, or you may choose to do three full days each week.
Our preschool will open at 7:15 AM, and all students are expected to arrive no later than 8:30 AM.  Each child will be required to bring a lunch and one snack each day.  Our preschool instructional day will end at 3:00 PM.  Children may be picked up any time after that.  The program will close at 5:30 PM.
After-School:
Our after-school program offers a loving, comfortable place for school-age children to come at the end of the school day.  They will receive help to complete homework in a structured environment and have options of other activities to choose from each day.
Tuition will be $5 per day and will be due each week.  If desired, your child may bring a snack to eat after getting off the bus.  The bus from Clarksville Elementary School will drop the children off at the church around 3:45 PM.  Our program will close daily at 5:30 PM.  We also offer before-school care for school-age children for $2 per morning.
Requirements for Entry:
Must be at least 2 ½ years old on or before your child's first day of school
Physical Examination & Immunization Record
Copy of Social Security Card
Copy of Birth Certificate
Potty-trained or working toward being fully potty-trained
We are grateful for the opportunity to share in the growth and development of your child.  Thank you for sharing your child with us!  Please contact us if you have any questions.
"Start children off on the way they should go, and even when they are old, they will not turn from it."  Proverbs 22:6